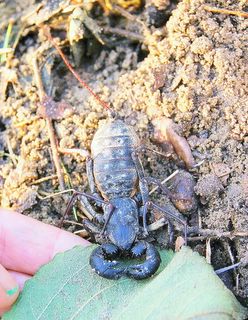 Here is a creature from your nightmares, but like a bad dream, this creature is actually quite harmless.
This is a whip scorpion.Those are my fingers. If it were anywhere near as creepy, bitey, stingy as it looks...my fingers would not be in the picture. The only defense this little nightmare has is to excrete acetic acid. Be rude to a whip scorpion and you will get to smell this vinegar-like defense mechanism.
I was not rude to this one by the way...we got along just fine.
What's curious to me, is that I grew up outside in Florida, a hundred miles from where I now live and never once in a childhood of catching
EVERYTHING,
did I ever lift up a board and find one of these. Yet, they seem to be as common as sandspurs in the small community I work in.
Grownups bring them to me. Kids bring them to me. Around here, they call them a "Grampus"...which I think is some corruption of "Grampa Scorpion" because of their size. "Vinegaroon" is another name that stems from the acetic acid defense.
I did a little GOOGLE search to learn more about them and found a neat article by a
guy
that keeps them as pets.
My search results also turned up a dominatrix lady down in Orlando, named Lady
Scorpion
who swings a
Whip.
...you can find that link yourself!